10 year anniversary — spinifeX maXimus
In 2015 Spinifex celebrates its 10-year anniversary with a very special ensemble: spinifeX maXimus. The current quintet line-up, which has received enthousiastic reviews for the recent cd Hipsters Gone Ballistic, will still be spinifeX maXimus' nucleus and its defining force, but the ensemble will joined by seven extraordinary musicians from Europe and the US, opening the doors to an even wider range of dynamics, new orchestral colors, creative energy and joyful improvising.
Spinifex will also present a 5-CD box, celebrating its 10 year anniversary. Included in this box will be the brand new spinifeX maXimus CD, a also brand new Spinifex quintet CD titled Veiled, a Spinifex Live CD with highlights of the last years, and re-issues of the first 2 Spinifex CDs: Triodia and Hipsters Gone Ballistic.
Funding: Fonds Podiumkunsten, Prins Bernhard CultuurFonds, Adèle Wickert Fonds, Amsterdams Fonds voor de Kunst, Sena Muziekproductiefonds.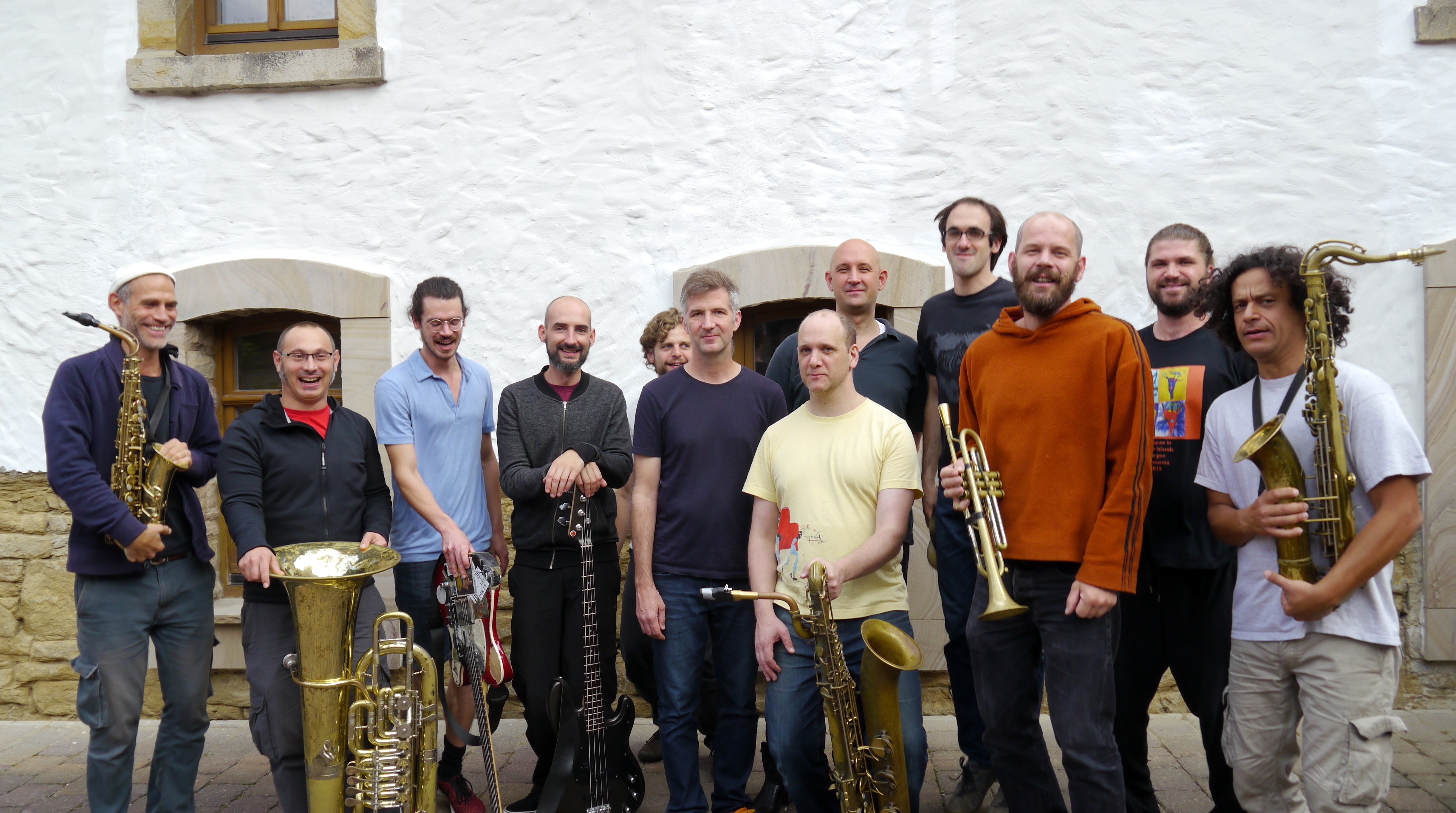 Spinifex
Piotr Damasiewicz– trumpet
Tobias Klein – alto saxophone / clarinet
Jasper Stadhouders – guitar
Goncalo Almeida – bass
Philipp Moser – drums
Maximus: joined by
- Bart Maris (BE) – trumpet
- Matthias Muche (DE) – trombone
- Jeb Bishop (US) – trombone
- Pascal Rousseau (F) – tuba
- Edoardo Marraffa (IT) – tenor saxophone
- Josh Sinton (US) – baritone saxophone
- Onno Govaert (NL) – drums
concerts:
27 august Fattoria Musica, try-out concert and CD recording
28 october soundsofmusic 2015, Vera, Groningen
29 october Brebl, Nijmegen (JIN)
30 october Paradox, Tilburg
31 october Hot House, Leiden
2 november Café Wilhelmina, Eindhoven (Axes)
4 november Tivoli/Vredenburg, Utrecht
5 november Bimhuis, Amsterdam
7 november Plusetage, Baarle-Nassau
14 january JOE Festival, Essen (special edition maXimus meets JOE)
We will produce the 5-CD album in a limited edition of only 200 copies. Rather than going for the most inexpensive plastic option, we will package the album in thick, high-quality carton, accompanied by a 16-page booklet with liner notes written by music journalist and radio maker Aad van Nieuwkerk. In order to realize this, we have started a Kickstarter campaign:
A preview to our new album Veiled:
Moscow to Vladivostok: Spinifex in summer 2015
Spinifex joined the Muzenergo tour in summer 2015: tour.muzenergo.ru/en/
This amazing project took place in the time span of 11 weeks, with a large bus full of musicians travelling from Moscow to Vladivostok on the Russian Pacific Coast. Spinifex joined the tour in 2 parts: from 12-17 june in the Moscow region, and from 2-22 august, travelling from Irkutsk to Vladivostok, playing some 25 gigs along the way.
The Spinifex album Hipsters Gone Ballistic (Trytone Records, december 2013) has been receiving fantastic reviews!
Eyal Hareuveni, allaboutjazz, february 2014:"… contrasting extremely tight, irregular structures and rhythms with explosive free improvisations and disciplined math- metal precision with playful Indian Karnatic rhythmic elements. All selections are played with sheer abandon and joyful passion, from the first second to the last one. All compositions feature restless shifts and complex dynamics as well as the highly collaborative and versatile interplay of this well-rehearsed quintet… the most impressive piece is an inspired, uplifting cover of Karnatic composer and singer Papanasam Sivan, 'Sre Valli Devasenapathe, that sounds like a spin on their fellow countrymen The Ex's Ethiopian covers. No doubt, the hipsters went on a wild ride."
Tom Greenland, The New York City Jazz Record june 2014 "Spinifex is an energetic prog-jazz quintet… Hipsters Gone Ballistic opens with a driving additive rhythm in nine beats, which manages, for all its prickly accents, to instill a punk-rock vibe, something that might drive less-inhibited jazz fans to mosh. The recording is notable for its juxtaposition of complex figures, flawlessly doubled by trumpeter Gijs Levelt and alto saxophonist Tobias Klein, in contrast to unfettered, free-form sections, the two approaches relentlessly overlapping throughout. The frontline delivers skronky accompaniment to Philipp Moser's throbbing drumbeats, cadencing as one on "Flying Object Forth Worth", ending memorably on the Klezmer-goes-Bollywood "Sre Valli Devasenapathe."
Rui Dinis, A Trompa
"Spinifex, a band that causes constant amazement…the obvious does not exist in Spinifex, not only in the improvisations but also in pure creativity and freedom. The varied and invariably irregular structures make the sound of Spinifex into a healthy and wild sonic feast. Spinifex is hard to crack. But in the end, it's all pleasure."
Monsieur Délire, Monsieur Délire: "Looking for a record that hits hard and never where you expect it? Bam! Hipsters Gone Ballistic is a neverending flurry of pops to the jaw. Ultratight tunes borrowing from jazzpunk and avant-prog. With guitarist Jasper Stadhouders (also in Lily's Déjà Vu), Gonçalo Almeida on bass, drummer Philipp Moser, and most of all the dual frontline of Gijs Levelt (trumpet) and Tobias Klein (alto sax). Recommended."
Helen Moors, moorsmagazine january 2014: " Spinifex and their new album Hipsters Gone Ballistic guarantees an unprecedented adrenaline rush … they go right at it with crackling energy, unexpected turns, super tight arrangements and, within those, strangely free improvisations which constantly keep the listener in suspense … fantastic!"
Jan Willem Broek in Caleidoscoop, december 2013: "There is no telling what will happen and that makes the music so attractive. The energy is almost tangible and it's bursting with the joy of performing … simply sensational!"
Herman te Loo in Jazzflits, december 2013: "The most striking characteristic is the pounding staccato rhythm … you might blame the band for a lack of subtleness, but that's definitely not the case. The dynamic spectrum of Spinifex is big, and so is their bag of musical ideas. Sometimes it seems as if all the instrumental lines of the larger Spinifex Orchestra have been pressed into this quintet."
Sergej Komnenić in Jazz in RS: "The sound on their last release is sharp, biting, edgy and dangerous … saxophonist Tobias Klein and the rest of the gang are rampant playing rhythms, carefully preserving the raw energy of punk and metal that pervade the whole issue … The rhythm section is a story in itself – bass guitarist Goncalo Almeida and drummer Philipp Moser are an explosive duo … at their cue the whole band goes into vigorous hard-core sections."
Zdeněk Slabý in His Voice, december 2013: "Dangerously adventurous compositional structures with a due share of improvisation"
It is available at TryTone and CDBaby and i-Tunes
We presented the at the Bimhuis, Amsterdam on 23 january 2014.
Here's a short compilation: