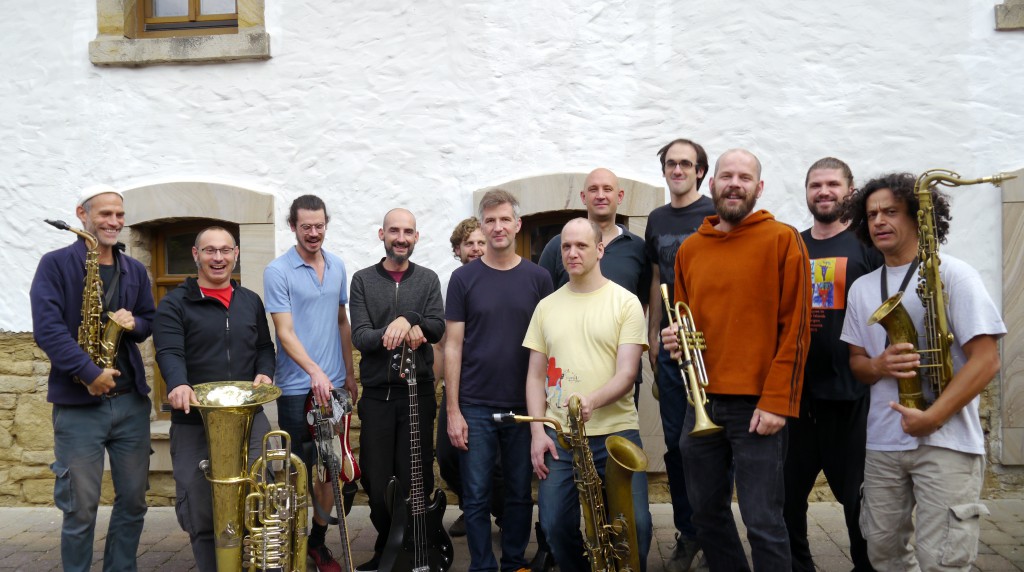 In 2015 Spinifex celebrates its 10-year anniversary with a very special ensemble: spinifeX maXimus.
"The fierce but thoughtful and entirely balanced arrangements of Spinifex Maximus had a constant pulse, which kept the unbridled anarchists together with an exstatic groove turned the whole thing into an addictive experience that many people will never forget." (Erno Elsinga in Jazzenzo about the concert in Paradox, Tilburg)
The current quintet line-up, which has received enthousiastic reviews for the recent cd Hipsters Gone Ballistic, is still spinifeX maXimus' nucleus and its defining force, but the ensemble is joined by seven extraordinary musicians from Europe and the US, opening the doors to an even wider range of dynamics, new orchestral colors, creative energy and joyful improvising.


Spinifex also presents a 5-CD box, celebrating its 10 year anniversary. Included in this box is the brand new spinifeX maXimus CD, a also brand new Spinifex quintet CD titled Veiled, a Spinifex Live CD with highlights of the last years, and re-issues of the first 2 Spinifex CDs: Triodia and Hipsters Gone Ballistic.
Funding: Fonds Podiumkunsten, Prins Bernhard CultuurFonds, Adèle Wickert Fonds, Amsterdams Fonds voor de Kunst, Sena Muziekproductiefonds.
The new CDs are available at www.trytone.org, and as download from itunes:
Veiled – Spinifex
Maximus – Spinifex
Spinifex
Tobias Klein – alto saxophone / clarinet
Piotr Damasiewicz / Gijs Levelt– trumpet
Jasper Stadhouders – guitar
Goncalo Almeida – bass
Philipp Moser – drums
Maximus: joined by
– Bart Maris (BE) – trumpet
– Matthias Muche (DE) – trombone
– Jeb Bishop (US) – trombone
– Pascal Rousseau (F) – tuba
– Edoardo Marraffa (IT) – tenor saxophone
– Josh Sinton (US) – baritone saxophone
– Onno Govaert (NL) – drums
confirmed concert dates 2015:
27 august Fattoria Musica, try-out concert and CD recording
28 october soundsofmusic 2015, Vera, Groningen
29 october Brebl, Nijmegen (JIN)
30 october Paradox, Tilburg
31 october Hot House, Leiden
2 november Café Wilhelmina, Eindhoven (Axes)
4 november Tivoli/Vredenburg, Utrecht, 21h downstairs in the café / foyer!
5 november Bimhuis, Amsterdam
7 november Plusetage, Baarle-Nassau
14 january 2016 JOE Festival, Essen (DE)