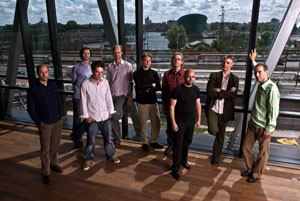 Ned McGowan – flute
Gijs Levelt – trumpet
Tobias Klein – alto saxophone,clarinets
Jasper Blom – tenor saxophone
Joost Buis – trombone
Theo van Tol – accordion
Raphael Vanoli – guitar
Sean Fasciani – bass
Uli Genenger – drums
In the autumn of 2012 Spinifex revived its very first, original form: the Spinifex Orchestra. This ensemble has evolved into a closely knit company expressing all the musical preoccupations of its members: the heartfelt performance of intricate compositions and arrangements, improvisations with daring and attitude, tight ensemble play and adventurous excursions. Spinifex returns to its original form, enhanced by the experience gained with all the projects in between.
Frank van Herk wrote the following about the Spinifex Orchestra in De Volkskrant:
'Their extremely varied debut CD reconciles a great number of extremes: jazz, solid rock, Balkan elements, contemporary classical. The compositions and arrangements have been extensively worked out and the solos are almost continuously accompanied by beautiful figures that are much more than simple riffs. However, the earthy, sometimes rarefied and slightly abstract music never sounds cerebral, due to the heartfelt solos by top improvisers such as Jasper Blom on tenor sax, Gijs Levelt on trumpet and Joost Buis on trombone.'